Yesler Terrace 4
Seattle, Washington
Honoring the past, shaping the future of Yesler Terrace
Neighborhood

Yesler Terrace

Type

Multi-Family

Size

281,233 SF
261 Residential Units

Sustainability

Targeting LEED Gold | Salmon Safe

Status

Under Construction

Services

Architecture

Client

Vulcan Real Estate
Honoring the past. Shaping the future.
Establishing a welcoming southeastern gateway to Yesler Terrace, the Yesler Terrace 4 building offers multi-family living perched on the hillside where Yesler meets Boren—connected by Streetcar to Seattle's International District and the First Hill and Capitol Hill neighborhoods.  Since the time of Henry Yesler (1810-1892), cultural diversity has been at the heart of the neighborhood's identity, and it has remained so through the city's first unofficially racially integrated redevelopment in 1940 all the way to today. Now at the edge of the Yesler Terrace Master Plan boundary, the YT4 development honors the neighborhood's history while advancing its collective vision for the future.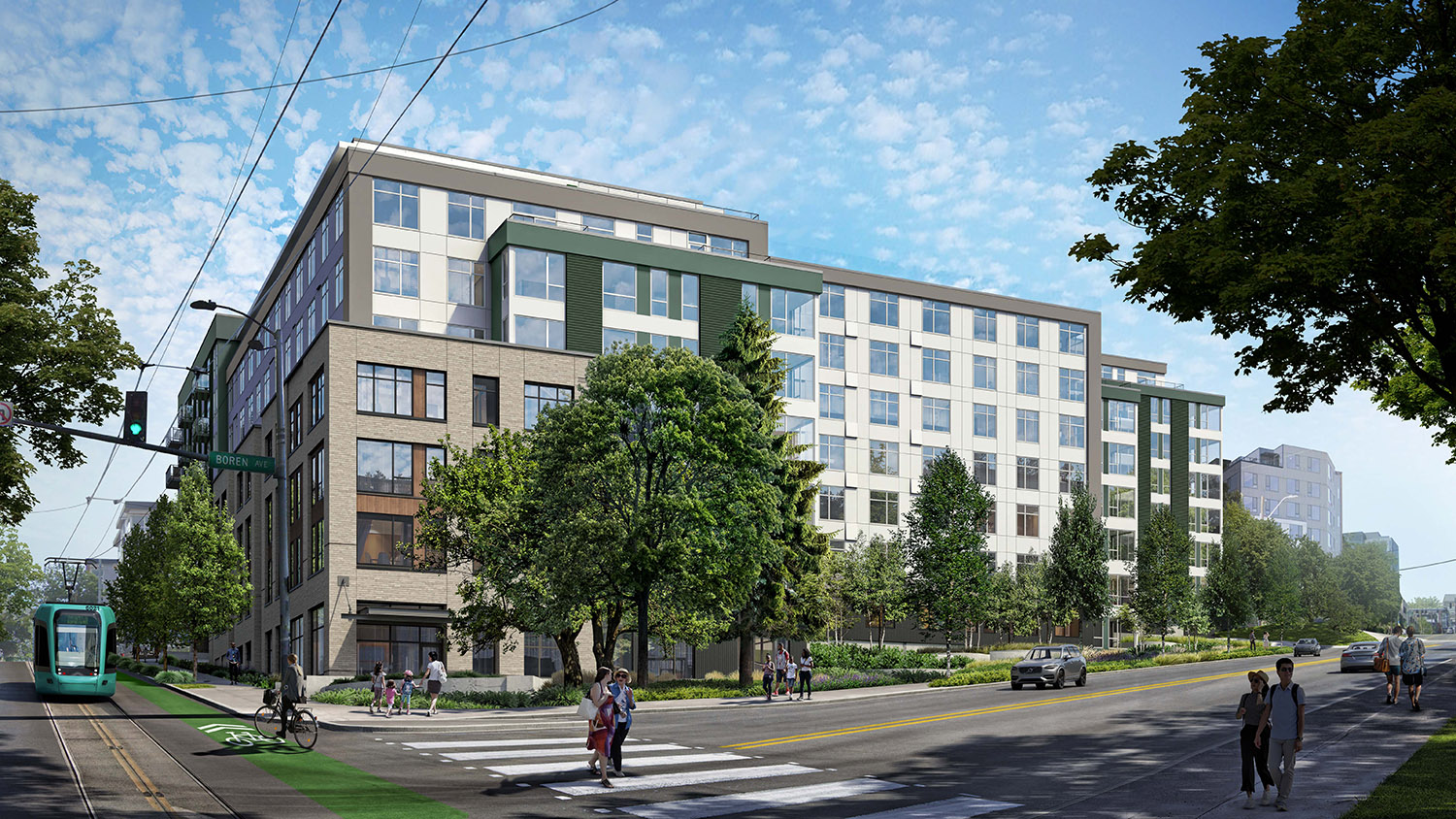 Communal celebrating Seattle history
Yesler Terrace 4 contains a multitude of indoor and outdoor amenity spaces—from sports courts to communal game rooms—that have been named and themed in honor of Seattle's prominent founders. A Library honors Sarah Yesler, Henry Yesler's wife, while Amenity Row (containing a karaoke space, card room, and game room) is inspired by Doc Maynard, a colorful character behind Seattle's first brothel, casino and saloon. Residents can enjoy the Denny Brothers' Study, paying homage to the siblings who built the first streetcar service; as well as Louisa's Gallery facing the courtyard, inspired by Louisa Boren's famed love of astronomy and botany. A rooftop amenity lounge is named for William Grose, Seattle's second black resident who bought and developed land from Henry Yesler where much of Seattle's black community lived at the time. Finally, the top amenity space, Chief Si'ahl's lounge, honors the chief of the Duwamish people and Seattle's namesake. Known for a lifelong commitment to responsible natural resource management, it is only fitting that the amenity space dedicated to him is at the top of the building, with breathtaking views of the Salish Sea.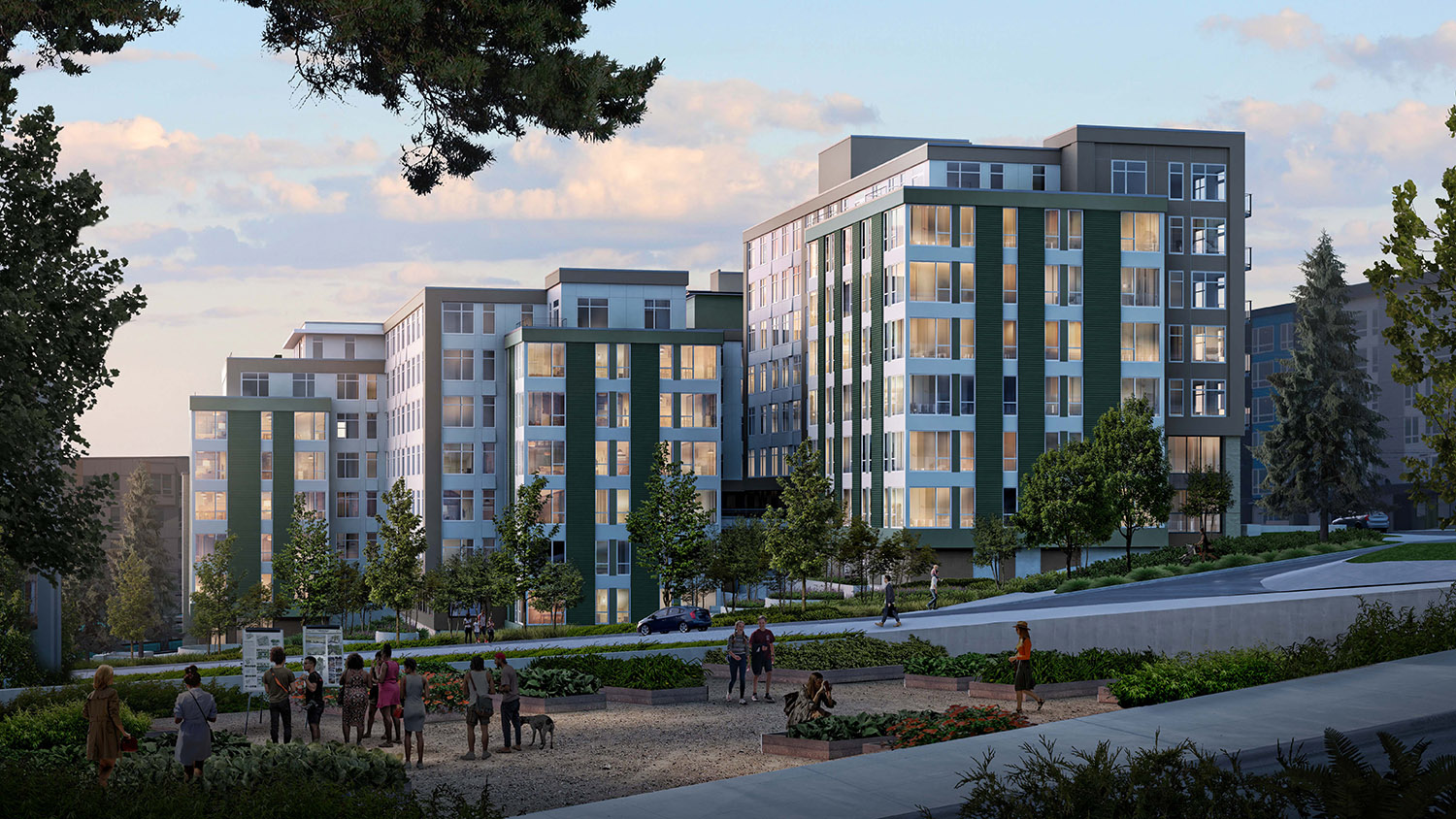 Smart design meets sustainability
Following Vulcan Real Estate's dedication to sustainability, the building is targeting LEED Gold certification. The site's steep slope, triangular shape, and Land Use guidelines invited creative landscape design such as cascading bio-retention planters. Lush plantings of native species will shift in color with the changing seasons, celebrating Seattle's rain and creating a habitat for local birds in these areas. Five exceptional trees remain on the site, celebrating the long history of the neighborhood and maintaining the tree canopy and continuity of the 1940's development.
Program: 260-unit apartment building, on-site cascading bio-retention planters with native species, abundant indoor and outdoor resident amenity spaces, outdoor sports court (basketball, pickleball, volleyball), connection to the Seattle Streetcar