Surrey on Main
Bellevue, Washington
An Oasis that Connects with the City Core
Neighborhood

Downtown Bellevue

Type

Mixed-Use

Size

163,621 SF
125 Residential Units

Sustainability

Targeting LEED 4 Homes Silver

Status

Completed 2022

Services

Architecture

Client

Pastakia + Associates
Expanding the livable extent of the Bellevue core
One of the first projects to enact the new Bellevue zoning code, Surrey on Main occupies an important corner of the downtown boundary. The project provides a graceful transition from the higher density of the city landscape to the less-concentrated living quarters of the surrounding neighborhood. The name of the project, "Surrey," is taken from the previous building that occupied the site, which historically served as the old Seattle Times offices.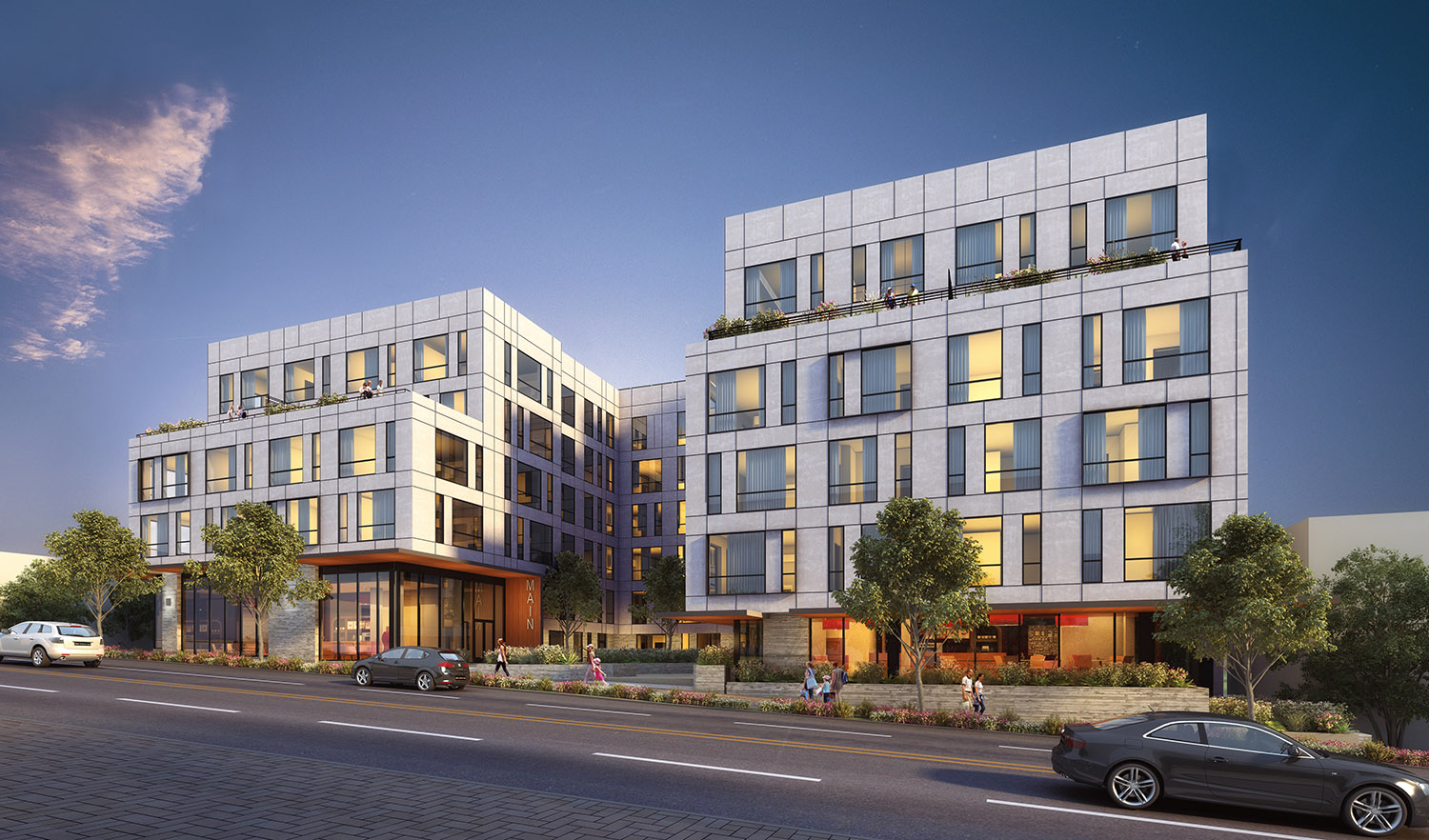 Fully engaging with the site and surroundings
Surrey on Main is grounded by its public plaza, which provides a luscious green oasis that fronts and moderates the busier Main Street. There are expansive landscaped buffers along the perimeters toward the building's smaller-scale neighbors. Views connect the building's future residents with downtown, providing outlooks on the activity of the street, the cityscape and outlying territories. A street-level courtyard invites public engagement — providing seating, plantings with trees and a commissioned art piece visible from the sidewalk.
A material palette reduced to absolute simplicity
Employing a modern, minimalistic design aesthetic, we've used board-formed concrete along the ground level, white paneling with contracting black steel and metal trim above. Warm cedar envelops the underside of the soffits above and down the main entrances of the retail and residential lobby.
Program: Mixed-use residential project with ground level retail; 4,000 sf public plaza with seating and greenery; 14' wide multi-use pedestrian and bike path; Existing trees to be maintained; Units with ground-level entries; Level 6 resident lounge; Rooftop amenity space with barbecue and green roof; Rooftop solar panel array; HUD-financed project