Siteline
Seattle, Washington
An Uptown building with World's Fair flair
Neighborhood

Uptown

Type

Mixed-Use - Apartments, Office & Retail

Size

330,00 SF Total
261 Residential Units

Parking

274 Stalls

Status

Under Construction

Services

Architecture

Client

MainStreet Property Group
Neighborhoods and programs converge
Siteline, a development blending residential, office, and retail under one roof, sits at the confluence of Lower Queen Anne, Denny Triangle, and South Lake Union. The mixed-use Uptown community draws inspiration from neighboring Seattle Center—the civic hub home originally developed for the 1962 World's Fair—by weaving in history, context, and art into the design.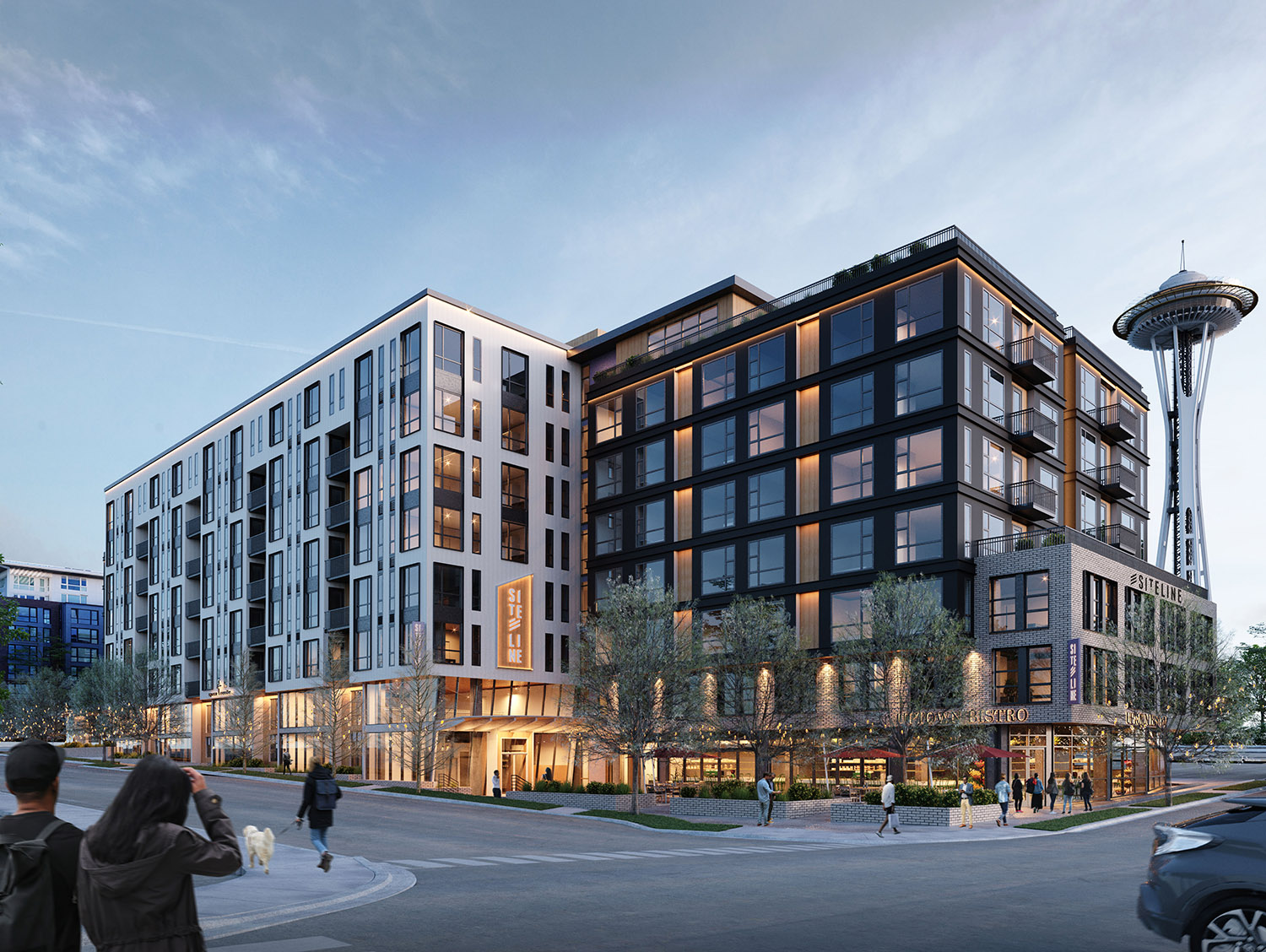 Woven into the urban fabric
With five wood-frame levels over three levels of above-grade concrete podium, and three levels of concrete below grade for parking, the building will reflect characteristics of the area's recent and historical development, offering a vibrant, enduring asset to the Uptown neighborhood. A public plaza and open space at the street level make the large, full-block building appear smaller than it actually is, achieving a scale that feels appropriate to the setting. Siteline introduces a residential population, a retail segment and commercial office retail tenants that will transform the neighborhood with community engagement and energize the area's urban fabric.
Creative activation improves pedestrian experience
The building enhances the neighborhood by activating the urban edge along Taylor Avenue and Thomas Street, infilling underutilized sites, and improving the pedestrian experience with lush landscape buffers and street-level architectural details. Both neighbors and tenants will benefit from a greater sense of security and safety through increased "eyes on the street" provided by office tenants and retail spaces opening onto public plazas. The result will be an enduring building with an architectural legacy that incorporates high-quality, durable materials and feels part and parcel to its surrounding environment.
Program: 214 residential apartments, 274 parking spaces, 28,000 SF of office space, 6,200 SF of retail space, and a public plaza